25th Jeju International Tourism Marathon Festival
24, May, 2020 09:00~
Close Applications : Until 29, April, 2019 (Wed)Authorized by K.A.A.F (Korea Association of Athletics Fedieornast)
Course
4 Course
Full Course42.195km

Starting Time : 09:00Time Limit : 6hr

Gujwa life Sports Park(Gimnyeong Beach)

↕

1.1km from the Western Entrance of Jongdal Coastal Road(Turning Point in Full Course)

Participants Qualification :
18 years old or more

₩ 30,000

Half Course21.0975km

Starting Time : 09:00Time Limit : 4hr

Gujwa life Sports Park(Gimnyeong Beach)

↕

Pyeongdae Handong Beach(Turning Point in Half Course)

Participants Qualification :
18 years old or more

₩ 30,000

Shortened Course10km

Starting Time : 09:10Time Limit : 2hr

Gujwa life Sports Park(Gimnyeong Beach)

↕

Woljeong Beach(Turning Point in 10km Course)

Participants Qualification :
Regardless of Age (Under the age of 18 : Parental Agreement Required / Under the age of 8 : Required to be accompanied by parents)

₩ 20,000

Walking Course10km

Starting Time : 09:20Time Limit : 5hr

Gujwa life Sports Park(Gimnyeong Beach)

↕

Woljeong Beach(Turning Point in 10km Course)

Participants Qualification :
Regardless of Age ( Under the age of 8 : Required to be accompanied by parents)

₩ 20,000
※ Fees are not refundable.
Course
Along the Coastal Roads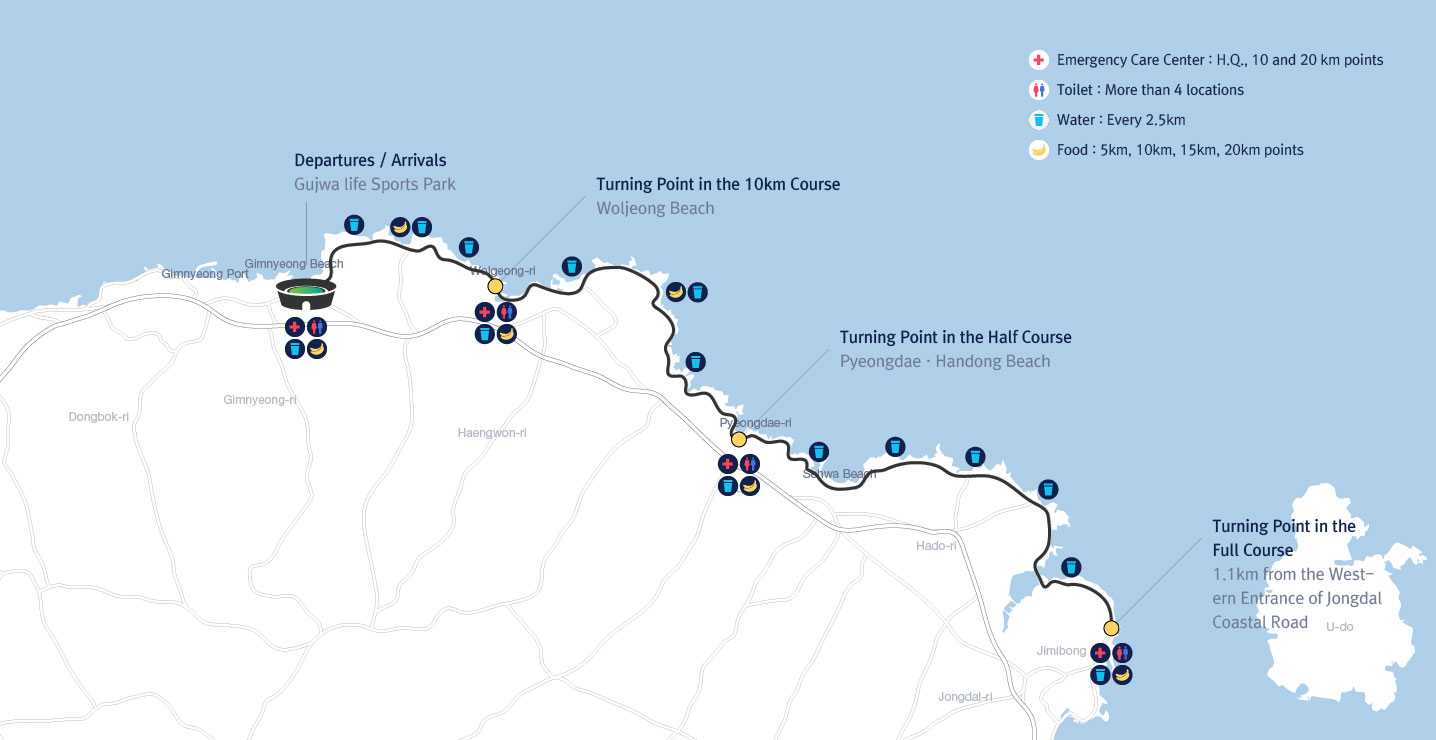 Gujwa life Sports Park(Gimnyeong Beach) ↔ Woljeong Beach (Turning Point in the 10km Course) ↔ Pyeongdae Handong Beach (Turning Pont in the Half Course) ↔ Sehwa Beach ↔ Hado Beach ↔ Hado Migrant Bird Habitat ↔ 1.1km from the Western Entrance of Jongdal Coastal Road(Turning Point in Full Course)
Elevation Profile
Full Race Elevation Profile
Half Race Elevation Profile
Shortened, Walking Course Elevation Profile
Prizes
01

Trophies and prizes for the 1st ~ 5th Places.
02

Certificates and prizes will be awarded to the 1st places by event, by age(grouped by age) and by gender. (No mere than one prize per person)
03

The oldest male and female runners who complete the race will receive prizes provided by sponsors.
※ No prizes will be awarded to the Walking Course participants.
Souvenirs
Commemorative T-shirts and medals, etc.